"CONFERENCES AND EXHIBITIONS FOR ALL ASPECTS OF THE AIRPORT INDUSTRY"
Airport Commercial & Retail
21-23 April 2015
Nhow Hotel, Milan, Italy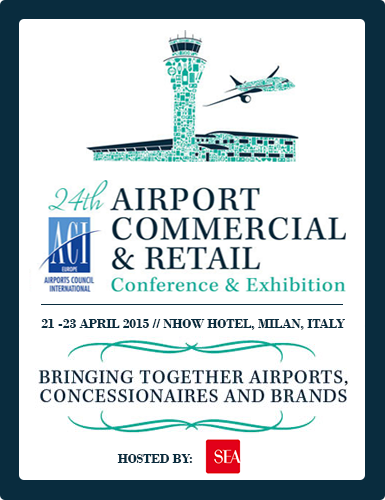 ACI EUROPE Airport Commercial & retail - The must-attend event for airport commercial executives & airport retail business partners.
General Assembly
24-26 June 2015
Hilton, Prague, Czech Republic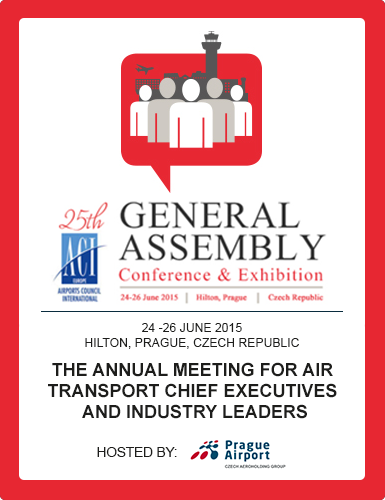 ACI EUROPE / WORLD, Annual Congress and Exhibition - the global meeting for air transport Chief Executives and industry leaders.
Airport Exchange
8-10 December 2015
İGA Havalimanı İşletmesi A.Ş., Istanbul, Turkey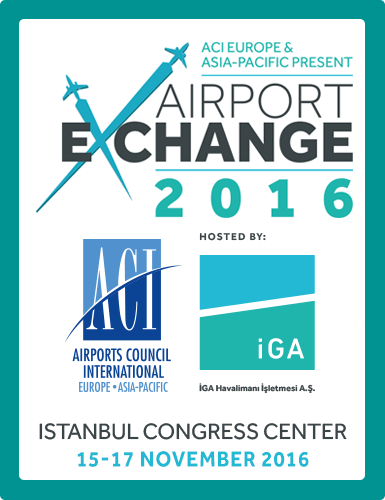 ACI EUROPE conferences are recognised to be of the highest quality in the industry and once again Airport Exchange is set to deliver an exciting programme.
What is ACI EUROPE?
ACI EUROPE is the European region of Airports Council International. ACI is the only worldwide professional association of airport operators. ACI EUROPE represents over 450 airports in 44 countries. Member airports handle 90% of commercial air traffic in Europe, welcoming over 1.5 billion passengers each year.
ABOUT ACI
ACI is the only worldwide professional association of airport operators. ACI, headquartered in Montreal, is a non-profit-making organisation representing over 1,861 airports in 177 countries and territories worldwide. We are organised into five geographical regions: Africa, Asia-Pacific, Europe, Latin America/Caribbean, North America, each with its own board of elected airport leaders. In 2013, airports worldwide welcomed 5.95 billion arriving and departing passengers and handled 93.6 million metric tonnes of cargo and 79.6 million movements.
THE VOICE OF EUROPE'S AIRPORTS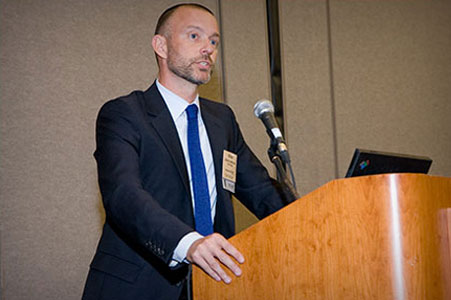 ACI EUROPE, based in Brussels, Belgium, represents the interests of over 450 airports in 44 countries. Our members account for over 90% of commercial air traffic in Europe. In 2012, member airports handled 90% of commercial air traffic in Europe, welcoming over 1.6 billion passengers, 16.7 million tonnes of freight and more than 16 million aircraft movements.
ACI EUROPE promotes the exchange of industry know-how through our internal committee structure and extensive schedule of conferences and exhibitions. By actively seeking the views of airport members, we generate comprehensive common policies that serve as a reference to the entire aviation industry.
We work on a day-to-day basis with the institutions of the European Union, the European Civil Aviation Conference (ECAC) and the European Agency for the Safety of Air Navigation (EUROCONTROL) , the European Aviation Safety Agency (EASA) and the full spectrum of the air transport supply and wider aviation sector. Colleagues at ACI World pursue the same mission with the International Civil Aviation Organisation of the United Nations (ICAO) and other world organisations.
GETTING THE RIGHT MESSAGE ACROSS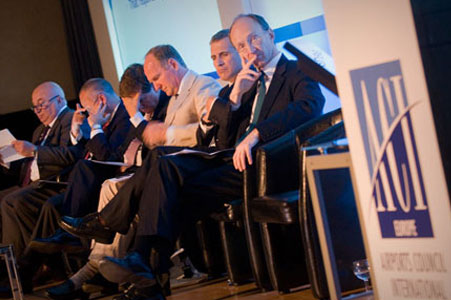 Legislation affecting civil aviation is increasingly enacted at the European level. ACI EUROPE has privileged access to EU legislators, which no individual airport, however important, could hope to achieve. Airports are important national and regional assets : our mission is to work closely with policy makers and industry partners, thereby ensuring that European airports are fully integrated in decision making processes affecting our industry.
Our intelligence network enables us to anticipate and influence, from the moment of conception, the development of legislative or regulatory initiatives impacting not only our members, but the entire aviation industry. We are currently engaged in important work on the environment, airport capacity, air passenger rights, airport charges, ground handling, slot allocation and airport competition.
All research shows that airports contribute significantly to the economic and social development of the regions which they serve. By mobilising our in-house expertise, EU contacts and a range of communication tools, we aim to promote a wider understanding of the challenges facing civil aviation in Europe.