The 16th ACI EUROPE Awards 2020
The ACI EUROPE Awards recognise excellence and achievement across a whole range of disciplines including the Best Airport Awards (in size category), the HR Excellence Award, the Eco-Innovation Award and the Accessible Airport Award in association with the European Disability Forum. In addition, we are launching a brand new awards category - the Digital Transformation Award, an initiative of SESAR Joint Undertaking, in collaboration with ACI EUROPE.
Due to the postponement of the ACI EUROPE Annual Assembly & Congress and the current situation we have reimagined the awards and have updated criteria with a COVID-19 focus for the Best Airport Award and the HR Award. Please see the individual criteria documents attached to each category below for further details.
The award entries will be assessed by a panel of expert judges and key institutional stakeholders. Winners will be announced in front of an audience of Chief Executives and industry leaders as part of the proceedings of the Gala Dinner, taking place at the 30th ACI EUROPE Annual Assembly & Congress 2020 in Geneva.
Entries must not exceed 1,000 words (excludes appendices).
Each entry may include a maximum of 10 appendices to support the submission.
Entries made after the deadline (Thursday 3 September 2020) will not be accepted. For questions regarding this deadline please contact andrea@pps-publications.com
Each entry (per airport, per category) is subject to a €500 administration fee. All fees must be received by the afore mentioned deadline for entries to be accepted.
Airports may make multiple submissions to different categories where appropriate.
It is the entrant's responsibility to ensure their entry meets the criteria outlined in the relevant category.
Please note the rules and requirements for the Eco-Innovation Award are unique and should be carefully considered in line with Airport Carbon Accreditation.
The information below is designed to assist with producing a successfully shortlisted entry. Ensure your submission also meets the rules and requirements set out above.
Appendices
Previous entrants have provided photos, statistics and graphs/charts to strengthen their submissions. Stand out applications also incorporated more creative evidence such as press releases, marketing campaigns, awards won, testimonials and letters of endorsement from government officials. These do not count towards the word count (1,000); however, do ensure these materials add value to your entry and you do not exceed 10 supporting documents, as we may ask you to revise your entry.
Appendices are supporting evidence and should be relevant to the main body of your entry. Any appendices too large to share via email can be shared as a zip file using secure transfer sites such as wetransfer.com.
Meeting the Criteria
The criteria documents provided give a strong guide as to what the judges may be looking for from entries. You do not have to address each point individually but should focus on the relevant areas where your airport has made significant achievements.
Clear Communication
Provide a brief insight into your airport's current position.
Make your entry concise and easy to digest.
Focus on key points in a structured and interesting narrative.
Keep it factual and avoid unsupported claims. Facts and figures will strengthen your entry.
Ensure the entry is visually neat and appealing.
Have your entry proofed and any links or videos tested prior to submission.
Submitting Your Entry
Leave plenty of time to complete your entry to ensure it is of the highest quality and allow extra time to account for content being signed-off in your department.
Have a lead contact on the entry; this person will coordinate materials, make the submission, and be contactable for all matters in the lead-up to the Awards Ceremony.
Ensure you have the appropriate permissions to share the information provided in your submission.
Ensure the format of your submission is easy to read. PowerPoint and PDF text documents are preferable.
The ACI EUROPE Awards are split into 8 categories, so be mindful of using the correct entry form to avoid confusion during the judging process.
Why Enter the ACI EUROPE Awards?
The ACI EUROPE Awards recognise excellence and achievement across a whole range of disciplines relating to airport operations. Successful entrants, will be recognised for their outstanding achievements in front of Chief Executives and industry leaders as part of the Gala Dinner proceedings at the 30th ACI EUROPE Annual Assembly and Congress in Geneva, Switzerland.
Participate in the highly regarded ACI EUROPE Awards to:
Showcase your achievements
Generate excellent PR opportunities
Attract new business partnerships
Receive validation for your team's hard work
How to Enter
Ensure you have thoroughly reviewed the criteria documents for the category you wish to enter.
Once it is confirmed which category you will enter, download and complete the appropriate entry form and submit to andrea@pps-publications.com. You do not need to provide your full submission with your entry form, but the administration fee must be paid immediately.
Consider our Entry Tips to produce the most impressive submission.
Ensure you have met all Rules and Requirements.
Provide your full submission no later than Thursday 3 September 2020.
Register your team to attend the ACI EUROPE Annual Assembly and Congress, 20-22 October 2020 in Geneva, Switzerland. Winners will be announced as part of the proceedings at the Gala Dinner on Wednesday 21 October.
Register to attend the 30th ACI EUROPE Annual Assembly & Congress
Hosted by - Genève Aéroport 20-22 October 2020
View the agenda
Register now
Previous ACI EUROPE Annual Congresses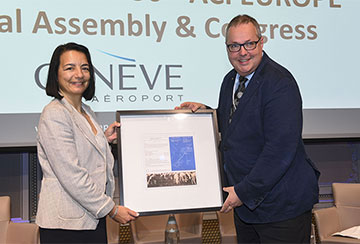 Transform or die – Airports & the Sustainability challenge
The 29th ACI EUROPE Annual Assembly & Congress, hosted by Hermes Airports, took place in Limassol on 25-27 June 2019...
Read the full report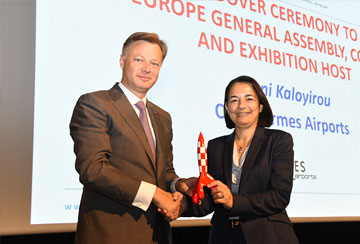 Airports as Brands and Businesses
28th ACI EUROPE/World General Assembly, Congress & Exhibition, Brussels, 18-20 June 2018...
Read the full report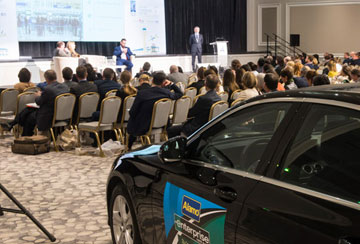 Airport Leadership in Change
27th ACI EUROPE General Assembly, Congress & Exhibition, Paris, 12-14 June...
Read the full report